A Childhood Dream: How I Started Writing
I'm used to carrying pen and paper with me since I can remember. I started writing at cafés, where I spent most of my childhood afternoons with my aunt and grandmother, as an escape to entertain myself.
My first "head to toes" fantasy story was written by the age of 11, "O Mundo da Imaginação".
At school, I used to create storylines in group projects, went to the finals of a Portuguese Language Contest, and my written-in-a-hurry-before-the-class poem "O que eu gostaria de ver da janela do meu quarto" was read twice during class because my colleagues liked it. I was also that person who'd write a full paragraph of 7 sentences for a two-line answer in exams.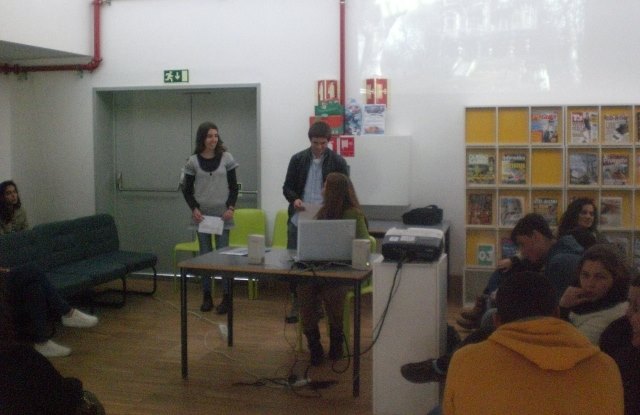 On the picture, I'm presenting the story we wrote for the English class with my colleagues, co-writers and illustrators, Marta and Daniel. "Cupcake Killer", a cupcake who was so hungry he went to eat the inhabitants of an imaginary village. We had a lot of fun! Sadly I didn't save our presentation, but you can read the story here.
At 18, I started writing for gaming fansites inside a young adult multiplayer online gaming community. Some examples are linked at muckrack. A year later, I even created my own called "Café Pixelado" known for its investigative journalism and Art columns, but ended up closing afterwards. I also co-created a podcast with friends and I was the one who wrote the content for the landing page now only available on Wayback Machine.
Learning about SEO
At uni, I won an SEO Cup by ranking our blog first on Google for a given keyword. I was the team leader, and the one who created all the social media accounts, and wrote all the blog posts. On another project, I was the one who wrote the storyline and created the video for a group project aimed at promoting a smart toilet.
Freelance Writing
By November 2022, I became a freelance writer.
Publications
At 23, I compiled all of my writing volumes with personalized covers by my friend and digital designer, Diego B. Monti. They're available on my DeviantArt.
At 24, I started publishing some of my poems as open submissions across poetry websites. I also try to participate in the Weekly writing submission by Grey Thoughts.
By December 2021, I started a write-when-you-need publication #CatchUpSundays on Medium.
Across time I've published texts and poems in Portuguese in anthologies by Chiado Editora, a Portuguese publisher:
'Entre o Sono e o Sonho' – Antologia de Poesia, October 2018 with "13-Olha não sei. Sei lá" in Uma Coleção de Poemas
'Colectânea de Contos de Natal – Volume I, da Chiado Books', December 2018 with "Mais uma Ceia" in Expelindo Epifanias
'SMS - Colectânea de Micro Narrativas Ficcionais - Volume I', January 2019 with "Micro Narrativa" in Expelindo Epifanias
Antologia de Poesia Contemporânea "Entre o Sono e o Sonho Vol. XII', December 2020 with "9) Unnamed" in Uma Coleção de Poemas
Antologia da Literatura Livre "Liberdade" Vol. II, April 2021 with "À vontade" in Expelindo Epifanias
Antologia de Poesia Contemporânea "Entre o Sono e o Sonho - Vol. XIII", December 2021 with "À Janela" in Uma Coleção de Poemas
Antologia de Poesia Contemporânea "Entre o Sono e o Sonho - Vol. XIV", October 2022 with "Pra Você" in Uma Coleção de Poemas